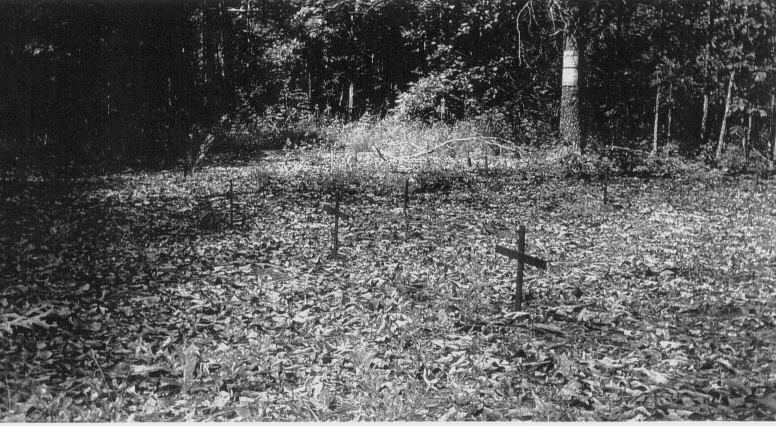 This is a picture of the Old Mauldin Cemetery in Irwin County.
I have collected old family obits for quite some time now. The older
papers had that flair and went into great detail about the hows of the
deaths. I will add these as I have time. There will be some from our
family surnames and some I just find interesting.



The Valdosta Times
Tuesday Dec.26,1899

He Dreamed About Death
A Remarkable Presentiment of Death

Tuesday morning the intelligence was brought to town that Mr. Charles
M.Tucker had been accidentally killed. The news had spread rapidly and
many hearts were made sad, for Mr. Tucker had a host of friends in
Ocilla. His death resulted from a falling limb, he was cutting down a
tree when it
began falling he turned to walk away a few paces. The top of the tree
struck another tree, a large limb was thrown back and as he walked away
it struck him on the head, crushing his skull and causing almost instant
death. Mr. Cajah Harper, who was cutting a log a short distance away
from him, witnessed the horrible accident and hurried to him., but Mr.
Tucker breathed only once after he reached him.
Tuesday morning before leaving the house Mr. Tucker kissed his wife and
baby and told his wife he did not believe he would live long, still he
was cheerful. He must have had a strong presentiment of death and a
little later he told Mrs. Tucker that he would stay at home with her
that day, but finally decided to go where "Cajah" Harper was
and show him some trees to be cut down, and then return home. He went
and the devoted wife next beheld him dead.
The night before his death, his father, Judge Daniel Tucker, dreamed
that he was passing through a great forest, and that he finally came to
where an aged man with a long white bread was standing. As he approached
the aged man pointed down and said There he is . Before he could see the
object he pointed to he awoke. Next morning around 9 O:clock the
plantation bell at the house called him from where he was at work, and
he says he recalled his strange dream and felt sure sad news awaited him
at home. Arriving there he was told of his son's death and hurried to
him about two miles distance. As he came to where the body lay, beside
it stood an aged man with a white beard, and his dream was verified.

When I found this obituary a lot of questions from my childhood were
answered My Granny Tucker always warned me about getting to close to the
fireplace. She would say," Baby back up from there I don't want you to
be like Little Mary Jane" Well when I found this I understood. This
would have been my Granny's cousin.

The Hawkinsville Dispatch
Vol. 22, #40

Thursday morning, 4 Oct. 1888

Letter From Sycamore Editor Dispatch

The community was saddened on Friday last to receive the instructions
from Tifton to prepare a grave for little Mary Jane, the oldest child of
Mr. J. I. Clements, of that place, who is a son-in-law of Mr. J.J.
Henderson. The
circumstances concerning her death are particularly sad. She was
attending school, at noon that Thursday she with other pupils were
cleaning away and burning the rubbish around the school house when on
going to close to the fire, her clothing was ignited by the flames. She
ran to the teacher, Mr. Jason Shirah, telling him that she was burning
up. All that he and others could do to subdue the flames proved to no
avail, and on Thursday morning her little spark of life burned out, and
her angelic spirit returned to her Lord
who gave it. She was twelve years old and is spoken of as being
exceptionally intelligent and studious. She was buried here on yesterday
afternoon. Jno. C. Dunaway, Sycamore, GA. Sept. 23, 1888

This would have been the obit of my GGGrandpa, My Granny Tucker's Grandpa.

The Hawkinsville Dispatch
Vol. 20 #28
Thursday morning 15 July 1886

Hon. Abram P. Clements died at his home in Irwin County, Ga. last week
in the seventy-sixth year of his age. He had been a prominent citizen of
this county, and was highly esteened by those who knew him. He was
elected to The House of Representatives from his county in 1874. Mr.
Clements leaves
a large family of children- six sons and four daughters all grown, and
many other relatives and friends to remember him for his love and kindly
deeds.

The Hawkinsville Dispatch
pg. 246

Mr. George Tucker

We regret to learn of the death of Mr. George Tucker, of Irwin County
which occurred Friday night, Aug.24. He was out hog hunting some two
weeks ago carring his gun on a somewhatcontrary mule. In trying to mount
his mule the gun was accidentally discharged the load entering his person
near the groin, and passing through came out near the spine. After
lingering in great pain until the 24th, he breathed his last.
Mortification set in and penetrated his whole system.

The Hawkinsville Dispatch
Vol. 8 #43
22 Oct. 1847

Rev. Richard M. Tucker, age 73 yrs. died at his residence six miles North of Alapaha on Tuesday afternoon 6 Oct., 3 O'Clock, after a lingering illness with inflammatory rheumatism over two months. Mr. Tucker was one of the oldest and most prominent citizens of Berrien County. He was born in Laurens County, Georgia in 1801, moved to Irwin County 45 years ago; and was living at the place where he died when Berrien County was formed. He was a minister of The Primitive Baptist Church for 40 years. He was the father of 16 children, 11 of whom are now living. He was buried at his place on Wednesday afternoon.
The Hawkinsville Dispatch
Vol. 14 #7
Thursday Morning 30 Sept. 1800
In Memoriam

In memory of Wright Tomberlin, who departed this life at his home in Wilcox County Ga., on the 17th day of September 1880, in the sixty-first year of his age. Wright Tomberlin was born in Wilkerson County Ga. on the 30th day of July 1817. In the year 1832 he moved to Irwin County, Ga. and
remained upon the place where he first settled until the day of his death, which occurred after an illness of six days of paralysis of the bowels. The deceased raised a family, of eleven children, all of whom enjoyed the best
of health and grew to manhood and womanhood, and all but one having married. On the morning of the 19th of September- at eight o'clock the old homestead and premises were crowded with his relatives and numerous friends to take the last farewell look at old Uncle Wright Tomberlin, whose remains were borne by the Fraternity to their last resting place in the family cemetery. Here his body was deposited beneath the earth with all the honors that could be conferred. The funeral service was conducted by Revs. O.D. Mulky, J.W. Mashburne and Elias Turner.
The Hawkinsville Dispatch
Vol. 17, #44
Thursday Morning 1 Nov. 1883
In Memoriam

Joshua A. Luke died at his home in Irwin County on the 14th of October 1883, after a long illness of dropsy. He was in the 79th year of his age. He was born in South Carolina in 1805, and was brought to Irwin County by his parents whenquite young. When he left his parents and began life for himself, he followed boating on the Omulgee River until he married an estimable daughter of John Tomberlin and settled down as a farmer, in which pursuit he was engaged up until the time of his death. He raised seven children, six boys and one girl. Three of his sons lost their lives in The Cause of The Confederacy. A fourth son survived the war, but today bears the marks of a good soldier. Two of his sons have grown up since the war. He was a devoted husband. He united himself with the Primitive Baptist
Church while in the bloom of life...He was a bright and good Mason, and was buried with Masonic honors.